Straight Teeth Orthodontics: Is Invisalign® Right for You?
Straight Teeth Orthodontics: Is Invisalign® Right for You?
Written By Smile Arts Dental on August 26, 2020
---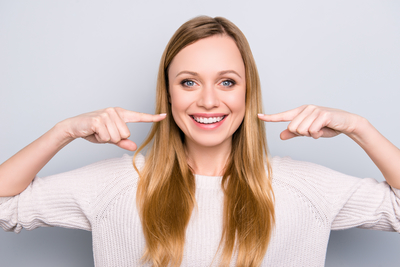 Nearly everyone dreams of having a straight, white, gleaming smile.
Unfortunately, many hide their smile because they aren't happy with what they see, like crooked teeth.
If this describes what you're going through, you should consider straight teeth orthodontics, particularly Invisalign® clear aligners from your Carmel dentist.
Benefits of Orthodontics and Invisalign®
Invisalign® aligners are the epitome of straight teeth orthodontics procedures. Custom aligners are made for you, and you'll get a new pair every six to eight weeks. Over that time, the aligners will gently move your teeth into proper alignment.
Why do dentists prefer this straight teeth orthodontics option to traditional metal braces? Here are just a few reasons.
1. Oral Hygiene is Much Easier
To clean your teeth and gums while wearing traditional braces, you need a special toothbrush and floss threaders. Threading your floss through the metal wire and in between the brackets is cumbersome, which makes some people skip flossing altogether. The problem is that lack of proper oral hygiene increases your risk of gum disease and dental decay.
Clear aligners make it so much easier. Simply remove them, clean the aligners, and brush and floss your teeth as per normal.
2. Get Faster Results
To see results with metal braces, you'll need to wear them for 18-24 months on average. If you wear Invisalign® clear aligners, you can be out of ortho treatment in as little as six months, though some people do need to wear them up to 18 months.
3. Remove If Necessary
Do you have a special event coming up? It's not an issue. You can remove your aligners. As long as you wear them for 22-24 hours per day, you're good!
Are You a Good Candidate for Invisalign®?
Dr. Alex Balaban, a Carmel cosmetic dentist, has helped patients achieve smiles of their dreams for over 15 years. When you visit Smile Arts Dental, he'll examine the health of your teeth and gums, as well as your jaw joint and bite. From that examination, he'll determine whether Invisalign® is the right option for your needs. He has your best interests at heart and will create a plan that will provide you with not just a beautiful smile, but a healthy one, too.
Interested in getting a straighter smile? Contact us today at 317-575-1995 to find out if Invisalign® clear aligners are a good fit for you.

Posted In: Dental Visit Cosmetic Dentistry Invisalign