Same-Day Crowns in Carmel – Just as Good as Traditional Crowns?
Same-Day Crowns in Carmel – Just as Good as Traditional Crowns?
Written By Smile Arts Dental on May 21, 2020
---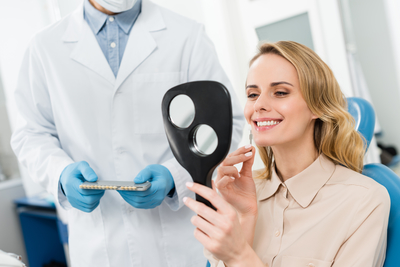 Same-day crowns have garnered a lot of attention over the past few years.
Many wonder if same-day dental crowns are now considered the gold standard in dentistry.
Investing in cutting-edge technology is always exciting, but is it really better than what's already in existence?
Perks of Investing in Same-Day Crowns
Dr. Alex Balaban, who prides himself on running a state-of-the-art practice, only uses the best tools, techniques, and technology. Here are some reasons he recommends same-day crowns in Carmel.
Same-Day Dental Crowns Save You Time
With traditional crowns, a crown procedure is broken up into two appointments:
The crown preparation
The crown delivery
You need a second appointment because the crown has to be fabricated by a dental lab technician. That could take a few weeks or more depending on the technician's schedule.
With same-day crowns, though, your dentist fabricates the crown while you're in the chair.
The Crown Fits Like a Glove
Same-day crowns are made using 3D imaging, which produces a custom model used to fabricate your new crown using a CAD/CAM system. The result is often a more accurate fit since you don't have to factor in the impact of the type/quality/age of impression material, size of an impression tray, soft oral tissues, and saliva.
Are You a Better Candidate for Traditional Dental Crowns?
Unfortunately, same-day crowns aren't for everyone. A traditional crown might be a better fit if your tooth has fractured below the gum line, if you need or prefer a metal crown, or if you have a difficult tooth shade to match.
Talk to your Carmel dentist about which type of crown is best for you. While a crown fabricated in one day is more convenient, it doesn't mean traditional crowns aren't still a good option. There are pros and cons of each, and your dentist will know which one will work best for you.
Do you have a cracked or broken tooth? Contact us at 317-575-1995 to schedule an appointment right away.

Posted In: Dental Visit Cosmetic Dentistry Crowns