Dental Implants and Bridges: What's the Difference?
Dental Implants and Bridges: What's the Difference?
Written By Smile Arts Dental on August 30, 2021
---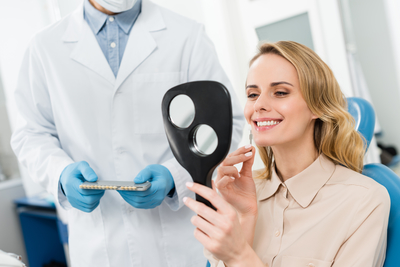 About 178 million American adults are missing at least one tooth, and about 40 million have no natural teeth remaining. Tooth loss affects far more than just your appearance and self-confidence. It also has significant health consequences, potentially leading to jaw osteoporosis and poor nutrition. At Smile Arts Dental, we're committed to helping patients with tooth loss enjoy a fully restored smile. Dental implants and bridges are two options for replacing missing teeth.
A Look at Dental Bridges
A dental bridge is used to replace one or more missing teeth. On either side of the gap of missing teeth, the bridge is securely bonded to the remaining natural teeth. The "tooth" portion of the bridge looks like a natural tooth, but it's usually made of plastic or porcelain.
Many patients choose dental bridges because they are affordable, yet this affordability comes with a steep cost. Dental bridges do not look as natural as dental implants, and they typically need to be replaced about every five to seven years. Furthermore, patients are at a higher risk of tooth decay in the adjacent natural teeth. These natural teeth are more likely to sustain damage because of the pressures exerted on them from the bridge.
An Overview of Dental Implants
In contrast to dental bridges, dental implants consist of three main components: the post, abutment, and crown. The post is securely anchored within the jawbone beneath the gum line. The abutment attaches the natural-looking dental crown to the post.
Because dental implants are anchored within the jawbone, they offer a far more permanent solution than dental bridges. Plus, they look, feel, and function just like natural teeth, without the risk of damage to adjacent teeth. In addition, the implants help preserve the density of the jawbone, thereby reducing the risk of osteoporosis. In short, dental implants are a wise investment.
Dental Implants in Carmel
In the Carmel area, Smile Arts Dental is the leading destination for patients with missing teeth. Dr. Alex Balaban, DDS has more than 15 years of experience in restorative dentistry, and is a member of the esteemed Perio Institute of Implantology. He is also a member of the Dental Organization for Conscious Sedation, which reflects his commitment to pain-free dentistry. To find out if dental implants are right for you, you can schedule a consultation with Dr. Balaban by calling (317) 575-1995.