5 Reasons You Need Dental Teeth Cleaning
5 Reasons You Need Dental Teeth Cleaning
Written By Smile Arts Dental on April 8, 2021
---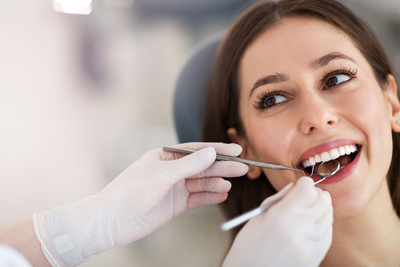 There's more to dental teeth cleaning than keeping your smile bright.
Did you know that oral hygiene has a direct effect on your overall health? Regular teeth cleaning may help lower the risk for stroke and heart disease. Conversely, poor oral hygiene can lead to other medical issues such as bone loss, cardiovascular disease, and cancer.
While regular brushing and flossing can help with surface cleaning, teeth cleaning is more thorough and goes beyond the superficial.
What Happens During Teeth Cleaning
Having your teeth cleaned every six months gets rid of bacteria build-up on your teeth and gums.
If you're worried about the procedure, an idea of the processes involved can help relieve you of anxiety:
Physical exam including visual inspection of your teeth and gums
Plaque and tartar removal
High-powered brushing with an electric toothbrush
Expert flossing
You can take your cleaning session as an opportunity to ask your dentist for tips on how to take better care of your teeth.
Benefits of Dental Cleaning
Knowing that there's nothing to worry about with a dental cleaning, it's time for you to discover the benefits you'll get:
Brightens Your Smile
Professional dental cleaning helps you achieve a brighter smile without the risks of an over-the-counter teeth whitener. Your dentist can remove coffee and tobacco stains, leaving you with beautiful, polished teeth.
Freshens Your Breath
Proper brushing of teeth can eliminate most of the odor that comes from your mouth. However, some deep-seated bacteria can be difficult to remove and can cause you bad breath. Regular teeth cleaning provides thorough cleaning of the mouth, thereby eliminating odor-causing bacteria.
Prevents Cavities
Plaque is an acidic substance that destroys tooth enamel, causing cavities. While this substance is the leading cause of tooth decay, it can easily be removed with combined regular brushing and dental cleaning.
Prevents Tooth Loss
The effects of plaque build-up don't end with tooth decay; it also causes gum disease resulting in tooth loss. Going through dental cleaning can help remove plaques that seep deeper down the gum line.
Checkup for Your Teeth
The checkup that comes with every dental cleaning session provides an opportunity to improve your oral health. When you go for teeth cleaning every six months, your dentist can monitor changes to your teeth better.
Schedule for Dental Teeth Cleaning in Carmel
Regular dental cleaning helps maintain a beautiful smile and healthy teeth and gums. It also helps identify potential issues that may cause other health conditions – something you won't spot with day-to-day brushing.
Contact us and make teeth cleaning a priority. Dr. Alex Balaban at Smile Arts Dental can help you achieve good oral health.

Posted In: Dental Visit Cleaning Cosmetic Dentistry